Your Medical Library
Item request has been placed!
×
Item request cannot be made.
×
Processing Request
Dr. Allen Santell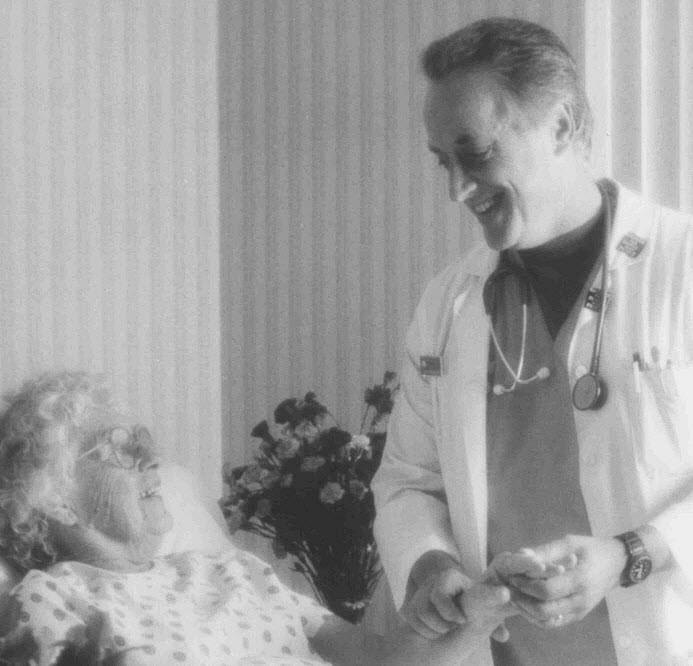 Dr. Allen Santell served Natividad Medical Center as internist and hospitalist, from 1969 to 2006.  He was an exemplary physician, mentor and teacher, dedicated to his patients and devoted to the mission of Natividad Medical Center and our community.
Dr. Santell's Biography
The Allen Santell Memorial Medical Library… a little biography to introduce Dr. Santell to those who have come to Natividad Medical Center after 2006… and a fond memory of Dr.
Santell for those who knew him.
From the Natividad Medical Center employees, Salinas, May 13, 2006.
Dr. Santell personified the spirit and service of Natividad. He was the soul of the hospital. He
was our "Captain."
Born on September 2, 1938 in Los Angeles he attended Stanford University and earned his Medical Degree at the University of California San Francisco. He interned in Minnesota and completed his residency in General Practice at Natividad in 1967. After two years of service with the U.S. Air Force, he returned to Natividad where he served as the hospital internist until he died on March 24, 2006, when he was 67 years old.
Dr. Santell's dedication to his patients and residents was exemplary. He worked seven days a week, arriving to Natividad always before his residents. He patiently taught more than two hundred young Family Medicine residents the "art of medicine." He taught by example, by speaking the truth and by providing the best care to his patients. He was a father," a mentor, a friend and a role model.
Dr. Santell's famous high top Converse sneakers are a symbol of his walk through Natividad. He walked his journey with many of us. We had the privilege to learn from him and to be inspired by his example.
May The Allen Santell Memorial Medical Library at Natividad be a place to gain wisdom and knowledge.
May you become the best physician, nurse, and health professional you can dream.
May Dr. Santell's example inspire you in your journey.
Hours & Access
The Allen Santell Memorial Medical Library and CME Program is available to all Natividad staff.  You must have a valid Natividad ID badge to enter the secured Medical Library facility on the 2nd Floor, Building 300 and a valid Natividad login to access the Medical Library Computers and CME Program resources via the Natividad Intranet type the word GoLibrary in the IE Browser address bar.
831-783-2597 or  in-house ext. 2597
for research and reference support.  The online resources are available 24x7.
Tours and hands-on demonstrations/workshops of the Library's resources are available to you at your convenience.  Feel free to request an overview.
Computers & Printer/Copier/Scanner
The Medical Library has a full service color copier/printer in its computer room.  No code is required.  Please make sure any HIPAA related copies that need to be discarded are placed in the Shred Bin in the Library.
Also, there are 8 networked computers with full Natividad application software.  First Come, First Serve.
Print Materials
All print materials in the Library (journals and books) are for REFERENCE ONLY and may not be removed or borrowed from the Library.  Feel free to use the ONLINE resources.
Your Personal Librarian
We offer literature searches on request, supplying appropriate citations and abstracts from PubMed/Medline and other sources.  Delivery of results normally takes 2-3 working days (depending on the extent of the Research).  Just email your request (with as much detail as possible).
Evidence-Based Search Engine
The  Library's catalog and online resources are all accessed on the Library's ON CAMPUS website by typing the word GoLibrary in the IE browser address bar and you can search most of our evidence-based resources through our Just Ask… One Click! Search engine located on the top of each Library webpage and on RISE. Many of our resources are Full Text.  If you cannot get to Full Text access, you will be directed to an easy to complete ILL form which will then be processed and the article will be emailed to you.
Journals
Full Text articles are available for more than 5,000 evidence-based journals through EBSCO and individual journal subscriptions.
Databases
Access Medicine
CINAHL Complete
Cochrane Collection Plus
Dynamed Plus
MEDLINE Complete
NeoFax
Nutrition Reference Center
Patient Education Reference Center
PubMed & PubMed Central
Rehabilitation & Sport Medicine Source
STAT!Ref
UpToDate; …more
InterLibrary Loan Journal Requests
If the Library doesn't provide Full Text access for specific journal articles, we can arrange for access through consortia and government partnerships. When locating the article through One Click, just complete the online ILL form.
eBooks/Medical Reference Textbooks
The Library's monograph collection has 700 print editions, yet the most up-to-date text are now in eBooks.  The Full Text eBook collection consists of more than 7,000 medical/nursing eBooks through
•Access Medicine
•EBSCO
•STAT!Ref
•Please note that the print collection is for use in the Medical Library ONLY.